Yesterday Nintendo started selling the Wii in the USA for $249, recent price on ebay: +$100. Up to 3000 people wer lining-up. Nintendo plans to ship 4 million machines worldwide by the end of the year, twice as many as Sony. Wii starts in Europe spring 2007. Sony's PS3 was released 2 days earlier for $499, recent price on ebay: +$400. Vouchers were bought by "doofy looking guys" for $500 (no Wii, just a voucher), some faghole paid $9000 on ebay. >48 Wii-start-pics.
Gestern startete der Verkauf von Nintendos Wii in den USA für $249, aktueller eBay-Preis: +$100. Vor den Geschäften bildeten sich Schlangen von bis zu 3000 Menschen. Nintendo plant bis Ende des Jahres vier Millionen Geräte auszuliefern, doppelt so viele wie Sony. In Europa gibt's den/die/das Wii erst Frühjahr 2007. Zwei Tage früher begann Sony mit dem US-Verkauf der PS3 für $499, aktueller eBay-Preis: +$400. Zum PS3-Kauf berechtigende Coupons (ohne Konsole) wurden für bis zu $500 weiterverkauft, auf eBay erzielte eine PS3-Auktion wahnwitzige $9000! >48 Wii-Verkaufsstart-Fotos.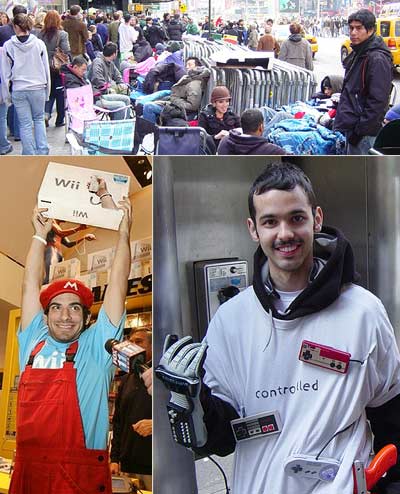 [Fotos: hier unten].