This is about one possibility to get rid of the way too expensive German Telekom as the now not anymore monopolist provider for internet and telephone in Germany.
Unser Ziel als Wenigtelefonierer war ein möglichst billiger Festnetztelefon- und Internetzugang ohne die viel zu teuren Telekom-Grundgebühren und zwar hier in Düsseldorf. Die aktuelle Lösung für uns, die wir in unserem Mietshaus den Kabelanschluss nicht extra zahlen: Internetzugang über
ish
-Kabelanschluss (echte Flatrate mit 2mbit Download, 256kbit Upload = 20€/Monat), VoIP (Voice-over-IP) -Internettelefonie über
sipgate.de
, bei denen man gratis Festnetztelefonnummern bekommt (alte Rufnummern übernehmen geht noch nicht, aber demnächst). Deren Basic-Tarif kostet keine Grundgebühren, deutsche Festnetzgespräche kosten 1,79c/Minute, Handygespräche 16,9c, Gespräche zu
anderen VoIP-Netzen
sind gratis. Jetzt kommen wir bei ca. 5€ Gesprächsgebühren auf monatlich 25€ für alles.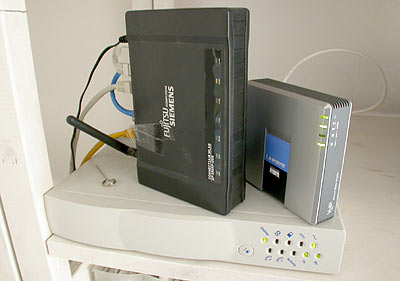 Das alte analoge DECT-Telefon haben wir per Adapter (
Linksys PAP2
, der kleine Kasten rechts) an den Router (links) gehängt, der wiederum über das ish-Kabelmodem (unten) mit dem Internet verbunden ist. Somit muss kein Computer eingeschaltet bleiben, um telefonieren zu können. Neuere Router haben solche Telefonbuchsen eingebaut, dann braucht man keinen Adapter. Ab und zu gibt es noch Probleme, aber es funktioniert. Filesharing-Aktivitäten z.B. muss man bei 256kb-Upload schon stark einschränken, damit die ansonsten sehr gute Sprachqualität nicht leidet. Das Telefon teilt sich ja nun den Internetzugang mit dem Computer. Für 35€ bekämen wir bei ish zusätzlich eine Festnetz-Flatrate und einen Extrakanal für Telefonie, womit Probleme bei der Gesprächsqualität wohl hinfällig wären. Da wir nicht ständig große Datenmengen schaufeln, sparen wir uns aber die zusätzlichen 15€. Festnetz-Flatrates sind eh witzlos, Gespräche in die unterschiedlichen Mobilfunknetze sind die Hauptkostenverursacher.