Friday, 28. September 2007, Colorado and New Mexico, USA.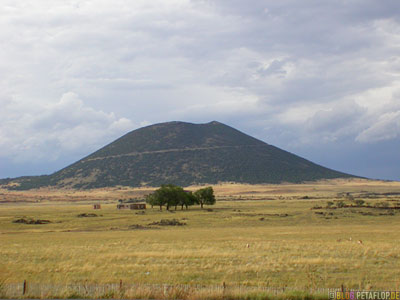 The volcano Capulin near the small town of Raton, New Mexico. The only elevation along Highway 87.
Capulin, ein Vulkan und einzige Erhebung am Highway 87 in New Mexico, in der Nähe von Raton.
Highway 87 near Pueblo, New Mexico
Highway 87 bei Pueblo, New Mexico
Allen Motel close to the Texan border in Clayton, New Mexico. A hicktown in the middle of nowhere. No credit card machine worked in whole Clayton, they said a storm had destroyed a overhead telephone wire once again. It was very stormy here as it always is.
Allen Motel, kurz vor der texanischen Grenze in Clayton, New Mexico. Ein kleines Kaff in der Pampa. Im ganzen Örtchen funktionierte kein Kreditkartenlesegerät, ein Sturm hatte wohl mal wieder oberirdische Telefonleitungen beschädigt. Stürmisch war es die ganze Zeit hier und ist es auch sonst.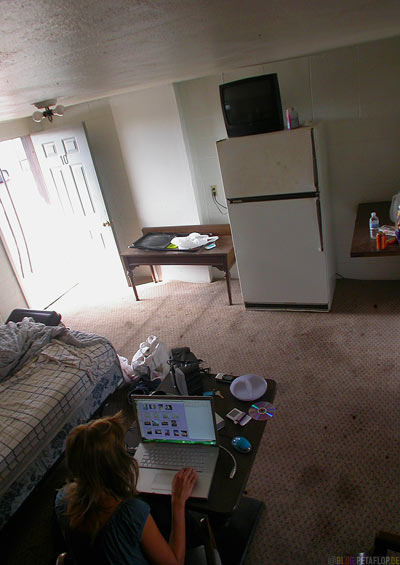 We should have asked to see the room before checking in. This was the worst room we had yet. Everything was sticky except the bedding and we had some roommates: many carpet spots moved. The only good thing besides the low price of 30$ was the really big fridge. Sadly we had nothing to fill it.
Wir hätten uns vor dem Einchecken das Zimmer zeigen lassen sollen. Das war bisher das mit Abstand schlimmste Motelzimmer. Bis auf die Bettwäsche klebte alles und wir hatten ein paar Mitbewohner: manche Teppichflecken wanderten. Das einzig Gute neben dem niedrigen Preis von 30$ für zwei war der riesige Kühlschrank. Leider hatten wir fast nichts, um ihn zu befüllen.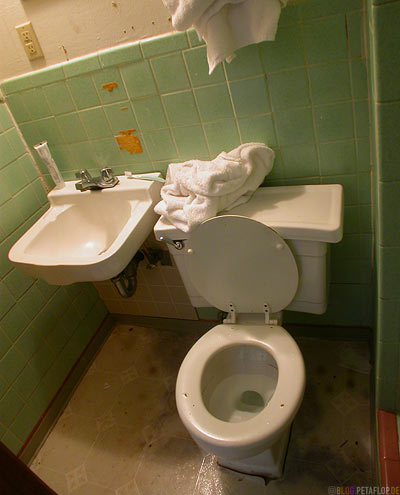 bathroom impressions… / Badimpressionen…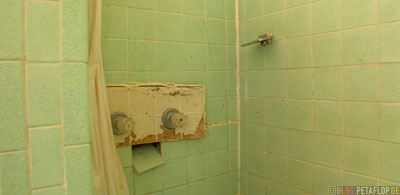 The air condition has definitely seen better days.
Die Klimaanlage hat auch schon bessere Tage gesehen.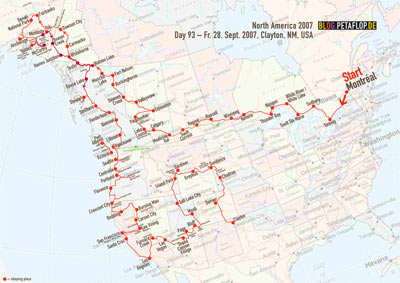 Click to open PDF / Klick öffnet PDF
---
20,000 Miles Canada/USA: Travel Overview
---